---
A man wakes up in a blue room. He's stuck and he can't escape.
 A window is his only connection to the outer world.
It filters the reality in a very mysterious way...
---
---
First there was Truffaut's The Green Room, a deathly hymn inspired by the work of Henry James. Now there is The Blue Room, whose sensorial abstraction and strength of imagery will stay with you long after watching it. Tomasz Siwiński's film, a slightly Lynchian internal odyssey unravelling at death's door, is a true celebration of what animation is capable of, leaving us deeply affected by its sick and creepy beauty. Cinephiles can detect glimpses of Kieslowski's funeral meditations, under its tormented classicism. Above all, everyone will see in it a great film.
Fabien Gaffez
---
format: DCP
year of production: 2014
running time: 14 min.
direction, script, design, editing, compositing: Tomasz Siwiński
producer: Ron Dyens / Zbigniew Żmudzki
music: Remi Boubal
sound design: Lionel Guinon
animation: Andrzej Piotr Morawski, Paweł Garbacz, Tomasz Siwiński
painting: Tomasz Siwiński, Edyta Adamczak, Mateusz Krygier, Martyna Ścibior, Edyta Turczanik
colouring: Adela Kaczmarek, Paweł Truchan
production: Sacrebleu Productions, Se-ma-for

---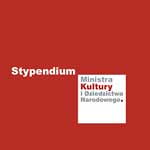 ---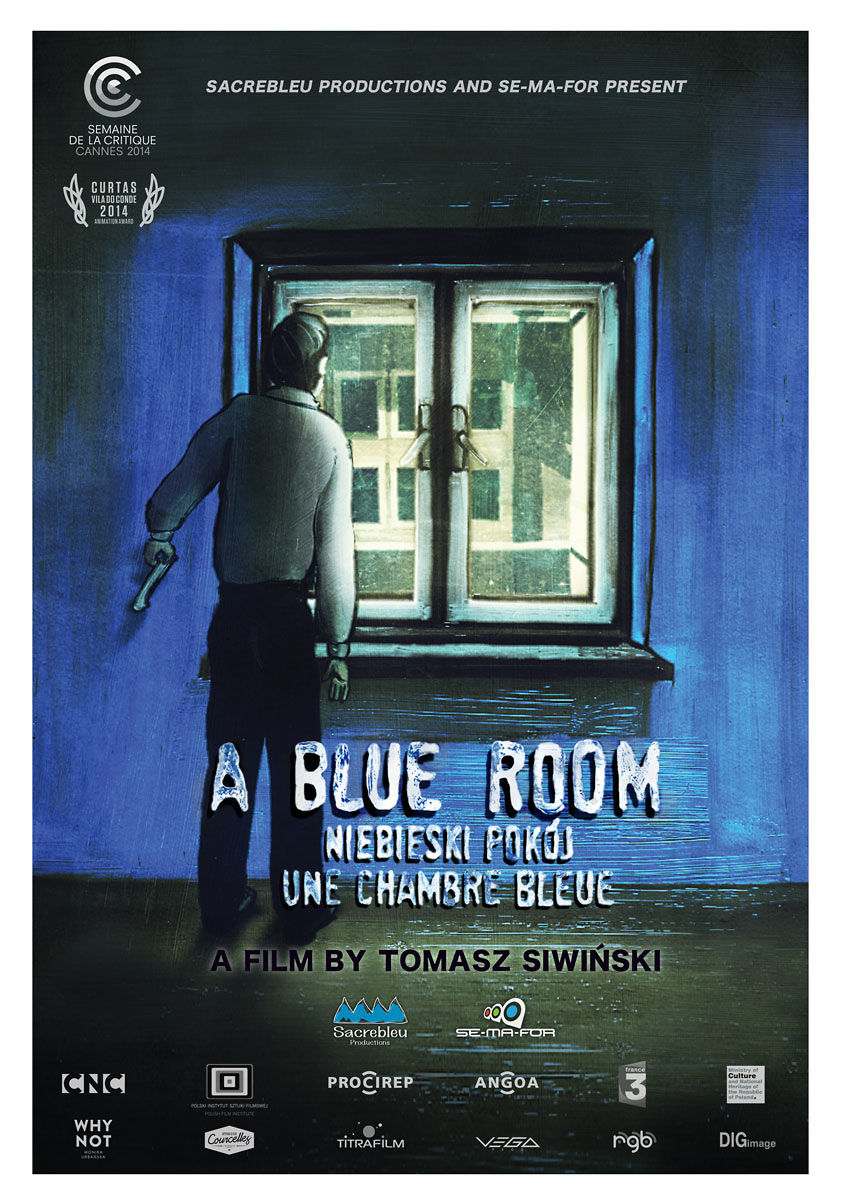 FILM GALLERY
---
Screenings and awards:
Cannes Film Festival - Semaine de la Critique (in competition), Cannes (France), 2014
22nd Curtas Vila do Conde - International Film Festival (in competition), Vila do Conde (Portugal), 2014 - Award for the Best Animation Film
Guanajuato International Film Festival (in competition), Guanajuato, San Miguel de Allende 
(Mexico), 2014 - Special Jury Mention Short Animation
New Zealand International Film Festival (screening), Auckland, Wellington (New Zealand), 2014
14th T-Mobile New Horizons International Film Festival (in competition), Wrocław (Poland), 2014 - 2nd Award in Polish Short Films Competition
Transatlantyk Festival Poznan (screening), Poznań (Poland), 2014
Ottawa International Animation Festival 2014 (screening), Ottawa (Canada), 2014
Athens international film festival (in competition), Athens (Greece), 2014
21st International Animated Film Festival "Krok" (in competition), Moscow (Russia), 2014
ANIMAGE – International Animation Festival of Pernambuco (in competition), Recife, Olinda (Brasil), 2014
International Animated Film Festival "Animatou" (in competition), Geneva (Switzerland), 2014
Festival du nouveau cinéma (in competition), Montreal (Canada), 2014
International Short Film Festival of Cyprus 2014 (in competition), Limassol (Cyprus), 2014
30th Warsaw Film Festival (screening), Warsaw (Poland), 2014
Naqsh Short Film Festival 2014 (screening), Bahrain, 2014
Primanima World Festival of First Animations 2014 (in competition), Budaörs (Hungary), 2014
57th International Leipzig Festival for Documentary and Animated Film (in competition), Leipzig (Germany), 2014
30th Interfilm – International Short Film Festival (in competition), Berlin (Germany), 2014
CutOut Fest International Animation and Digital Art Ferstival (in competition), Querétaro (Mexico), 2014 - Award for the Best Narrative Film
35e Festival du Film Court de Villeurbanne (in competition), Villeurbanne (France), 2014
16ème Festival du Cinéma Européen en Essonne (screening), Essonne (France), 2014
52 Gijón International Film Festival (screening), Gijón (Spain), 2014
23e Festival International Séquence court-métrage (in competition), Toulouse (France), 2014
32e Festival Tous Courts (in competition), Aix en Provence (France), 2014
21ème Festival national du film d'animation (in competition), Bruz (France), 2014
Animateka International Animated Film Festival (in competition), Lubljana (Slovenia), 2014 – Jury Special Mention
37ème Festival du Court Métrage de Clermont-Ferrand (in national competition), Clermont-Ferrand (France), 2015 - Prix France Télévisions
9th Tehran International Animation Festival (in competition), Tehran (Iran), 2015
Festival International du Film d'Aubagne (screening), Aubagne (France), 2015
Festival Court Metrage Ciné Poème (in competition), Bezons (France), 2015 - Prix de la Jeunesse
Short Waves Film Festival (in competition), Poznań (Poland), 2015
6ème Festival Ciné-court Animé de Roanne (in competition), Roanne France, 2015
Hong Kong International Film Festival (in competition), Hong Kong (China), 2015 - Jury Prize
31st IMAGINE Film Festival (in competition), Amsterdam (Netherlands), 2015 - Méliès d'Argent (the best short film)
7ème Festival de Cinéma d'Animation de Pontarlier (in competition), Pontarlier (France), 2015
Festiwal Filmów Animowanych ANIMOCJE (in competition), Bydgoszcz (Poland), 2015 - Jury Special Mention
RiverRun International Film Festival (in competition), Winston Salem, NC (USA), 2015
III Ogólnopolski Festiwal Polskiej Animacji O!PLA 2015 (in competition), Poland, 2015 - 1st prize in studio category
International Festival of Animated Films ANIFILM 06 (in competition), Trebon (Czech Republic), 2015
VIS Vienna Independent Shorts (in competition), Vienna (Austria), 2015
55. Krakow Film Festival (in national competition), Krakow (Poland), 2015 - Silver Hobby-Horse (Złoty Lajkonik) for the best polish animation film

Festival of Nations (in competition), Lenzing (Germany), 2015
Koszaliński Festiwal Debiutów Filmowych "Młodzi i Film" (in national competition), Koszalin (Poland), 2015 – Special Mention for direction
8th International Animation Festival Fest Anca (screening), Zilina (Slovakia), 2015
ANIMATOR - 8th International Animated Film Festival (in competition), Poznań (Poland), 2015
22nd OpenEyes Filmfestival 2015 (in competition), Marburg (Germany), 2015
Anima Mundi (in competition), Rio de Janeiro, São Paulo (Brasil), 2015
International Festival of animated film for children and youth "Constantine's gold coin" (in competition), Nis (Serbia), 2015
Anibar Animation Festival (screening), Peja (Kosovo), 2015
XVIII International Festival of Animation Films «Animaevka-2015» (in competition), Mogilev (Belarus) 2015 – Special Mention
XXV Message to Man International Film Festival (in competition), Saint-Petersburg (Russia), 2015
3D Wire – International Animation Film Festival (screening), Madrid (Spain), 2015
European Animated Film Festival BALKANIMA 2015 (in competition), Novi Beograd (Serbia), 2015 - Special Mention
13. Festiwal Filmowy Opolskie Lamy (in national competition), Opole (Poland), 2015 – Grand Prix for the best animation film
Idaho Horror Film Festival (in competition), Idaho (USA), 2015
Trieste Science+Fiction Festival 2015 (in competition), Trieste (Italy), 2015
22nd International Film Festival Etiuda&Anima 2015 (in competition), Krakow (Poland), 2015 - Silver Jabberwocky (the 2nd award)
FILMETS Badalona Film Festival (in competition), Badalona (Spain), 2015
Annecy International Animated Film Festival (screening), Annecy (France), 2016
REX Animation Film Festival (screening), Stockholm (Sweden), 2016