Blue Room awarded at T-Mobile New Horizons IFF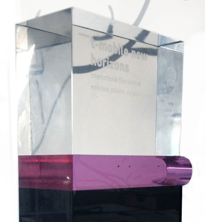 Blue Room has won the 2nd Award in Polish Short Films Competition at the T-Mobile New Horizons International Film Festival in Wrocław (Poland).
The jury consisted of: Claudette Godfrey, Johan Oettinger and Olaf Möller.
From the jury verdict:
A walk through an interior landscape that can be seen as a pure flight of fantasy as well as a psychological study of a mind/soul in turmoil. An admirably crafted animation that makes it complex, multilevelled narrative move by means only this particular cinematic idiom knows. Which is to say: A prime example of harmony between form/technique and content.
Posted August 5, 2014 15:22